Here's Where Manatees Are In Sarasota, And What To Do If You See One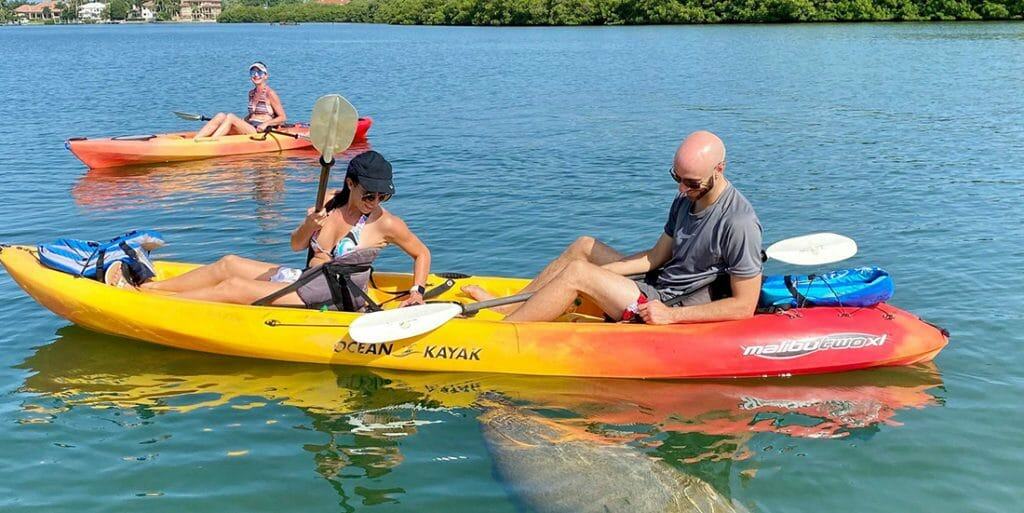 One of nature's most magical and gentle creatures, we are blessed in Florida to be home to more than 6,300 Manatee inhabiting our waters. The Florida manatee, a subspecies of the West Indian manatee, is protected via the Endangered Species Act, and is currently considered "threatened." The manatee Florida manatee population has recovered from approximately 1,200 in the early 90s after a widespread education program to ensure their safety.
At Sea Life Kayak, Adventures, we are avid lovers of the marine and wildlife we are blessed to work amongst. On our tours, we regularly see manatees, dolphins, and other marine life. We are thrilled when we encounter a manatee, but we are careful about following the rules U.S. Fish & Wildlife Service has put in place.
Where can I see manatees in Sarasota?
Manatees can be found in several locations across Sarasota, including from Siesta Key up to Lido Key, Longboat Key, and Anna Maria Island.
What is the best time of year to see manatees in Florida?
During the summer, manatees roam farther North and East. Winter is typically the best time of year to see manatees in Florida because they seek out warmer water. The peak season in Sarasota is typically early November up through March, but manatees can be found in the region year-round and are especially present in the Lido Key area up to Longboat Key and Anna Maria Island.
What should I do if I see a manatee up close?
If you come out on a tour with Sea Life Kayak, it is likely you'll see a manatee, and your guide will be sure to instruct you as to proper protocol. It is a magical thing to encounter manatees in their natural habitat, and they are often curious and friendly.
You can help them survive and thrive by following the FWS's guidelines. Here's what you need to know when you come into contact with a Manatee:
Do not pursue manatees: Never initiate contact with manatees. If they are interested in checking you out, they'll come closer.
When a manatee approaches: If a manatee approaches you it is likely curious. Do not touch it or reach out. Sit quietly and enjoy the interaction.

Be quiet. Loud noises may startle a sleeping manatee and cause it to move quickly to leave the area, possibly putting it in harm's way.
Boaters beware: When out boating, be mindful of manatee protection areas and slow down. Boats are the number one cause of manatee deaths.